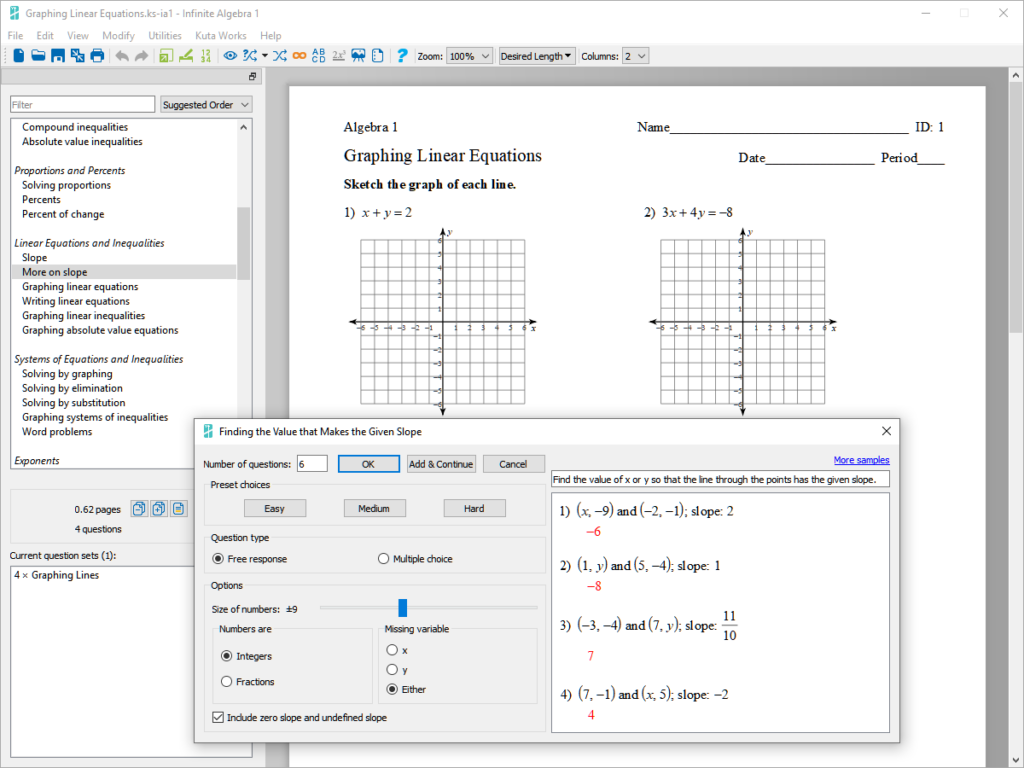 Save time!
Stop searching through textbooks, old worksheets, and question databases.
Create questions with the characteristics you want them to have.
Automatically space the questions on the page.
Print professional-looking assignments.
Improve learning!
Differentiate your instruction, improve your materials, adapt to your individual classes.
Reduce cheating!
Print multiple versions of tests.
Powerful!
Never runs out of questions because it doesn't use a question bank.
Questions are created on the fly.
Comprehensive!
Creates multiple-choice and free-response questions for comprehensive tests.
Over 85-125 question types in each:
Infinite Pre-Algebra
Infinite Algebra 1
Infinite Geometry
Infinite Algebra 2
Infinite Pre-Calculus
Infinite Calculus
Simple.
Extremely intuitive interface.
No demanding computer requirements.
Free Worksheets
Pre-Algebra Worksheets
Created with Infinite Pre-Algebra
Algebra 1 Worksheets
Created with Infinite Algebra 1
Geometry Worksheets
Created with Infinite Geometry
Algebra 2 Worksheets
Created with Infinite Algebra 2
Pre-Calculus Worksheets
Created with Infinite Pre-Calculus
Calculus Worksheets
Created with Infinite Calculus
Free Trial
Discover the power and flexibility of our software firsthand with a free, 14-day trial. Installation is fast and simple. Within minutes, you can have the software installed and create the precise worksheets you need — even for today's lesson.
Use each trial for up to 14 days. The trial version is identical to the retail version except that you cannot print to electronic formats such as PDF.