The Casio ClassPad 300, ClassPad 330 and fx-CP400 are stylus based touch-screen graphing calculators. The ClassPad comes with a collection of applications that support self-study, like 3D Graph, Geometry, eActivity, Spreadsheet, etc. A large 160×240 pixel LCD touch screen enables stylus-based operation. The ClassPad resembles Casio's earlier Pocket Viewer line. HP and Texas Instruments attempted to release similar pen based calculators (the HP Xpander and PET Project (see TI PLT SHH1), but both were cancelled before release to the market.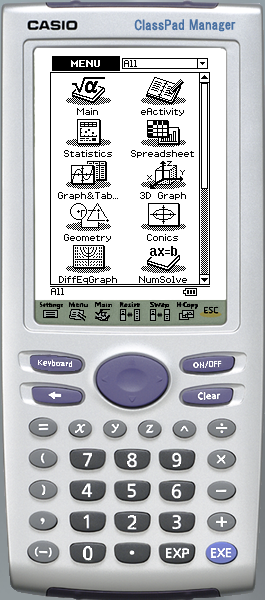 The ClassPad 300 allows input of expressions, and displays them as they appear in a textbook. Factorization of expressions, calculation of limit values of functions, and other operations can be performed while viewing the results on a large LCD screen. The ClassPad 300 comes with graphing tools for 3D graphing and drawing of geometric figures.
The user interface of the ClassPad 300 uses a pull-down menu format. Solutions, expressions, and other items can be selected with the tap of the stylus. The ClassPad 300 also supports drag and drop, copy and paste, and other pen-based operations. An eActivity application allows the creation of eActivities that can include figures, expressions, and explanations.
In the United States the ClassPad series is banned from standardized tests including the SAT, the ACT, and the AP Calculus test.
Type: Programmable Graphing
Manufacturer: Casio
Calculator
Entry mode: V.P.A.M.
Display type: LCD Dot-matrix
Display size: 160×240 dots
CPU
Processor: SuperH 3
Programming
Programming language(s): BASIC-like
Casio ClassPad Manager 300 Graphing Calculator Emulator Full Version
Download Links via edufileshare.com
Download Links